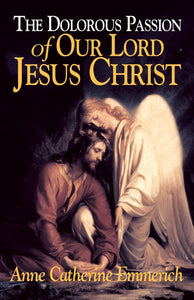 The Dolorous Passion of Our Lord Jesus Christ
This book helped inspire Mel Gibson to make the movie, "The Passion of the Christ." Faithful to the Bible story of the Passion and death of Jesus, it fills in many details and is edifying and inspiring beyond belief. It is also wonderful on the Blessed Mother's role in our redemption. Includes a short biography of Sr. Emmerich. A great book for the whole family!
Anne Catherine Emmerich was born to poor parents at Westphalia, Germany in 1774. When she was twenty-eight years old she became an Augustinian nun at Dulmen, and apparently began to experience ecstasies as a result of spiritual favors. She received the Stigmata in 1813, confined to her bed, and reportedly convinced a vicar-general, Overberg, and three physicians of her sanctity. She later reported that she had seen visions of Christ and the souls in purgatory as a child, as well as a circular core with three sections representing the Trinity. She is the author of The Dolorous Passion of Our Lord Jesus Christ, The Life of the Blessed Virgin Mary, Life of Jesus Christ and Biblical Revelations, and The Bitter Passion and the Life of Mary.

Anne Emmerich died on February 9, 1824 and was beatified by Pope John Paul II in 2004. 
Pages:   382
Publisher:   Saint Benedict Press, LLC
Publication Date:   2009
Binding:   Paperbound 
Dimensions:   5.5" X 8.25" X 0.88"
---
We Also Recommend
---